Contesting.no
LA Contest Club is here to remind everyone that Fair Play Contesting is the way of the future. No cheating!
For people who are honorable, the temptation to cheat is easily overcome - K5ZD
Please have a look at these pages.
WWROF
and read the Contester's Code of Ethics, then
DX Code of Conduct
.
LA Contest Club was founded in 1997 by Olaf, LB8IB and Bjorn, LB1GB
Happy Contesting!
There will be posts!
After this there will be posts... Go read some!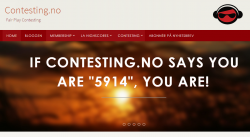 Da er Contesting.no oppe og går igjen. Utseende er kanskje midlertidig da vi foreløpig kjører på en gratisløsning og de støtter ikke alltid alt man har lyst til å bruke sånn uten videre. Forhåpentligvis blir det ikke behov for å gjøre endringer. Hva med Forum? Er det noen som har…